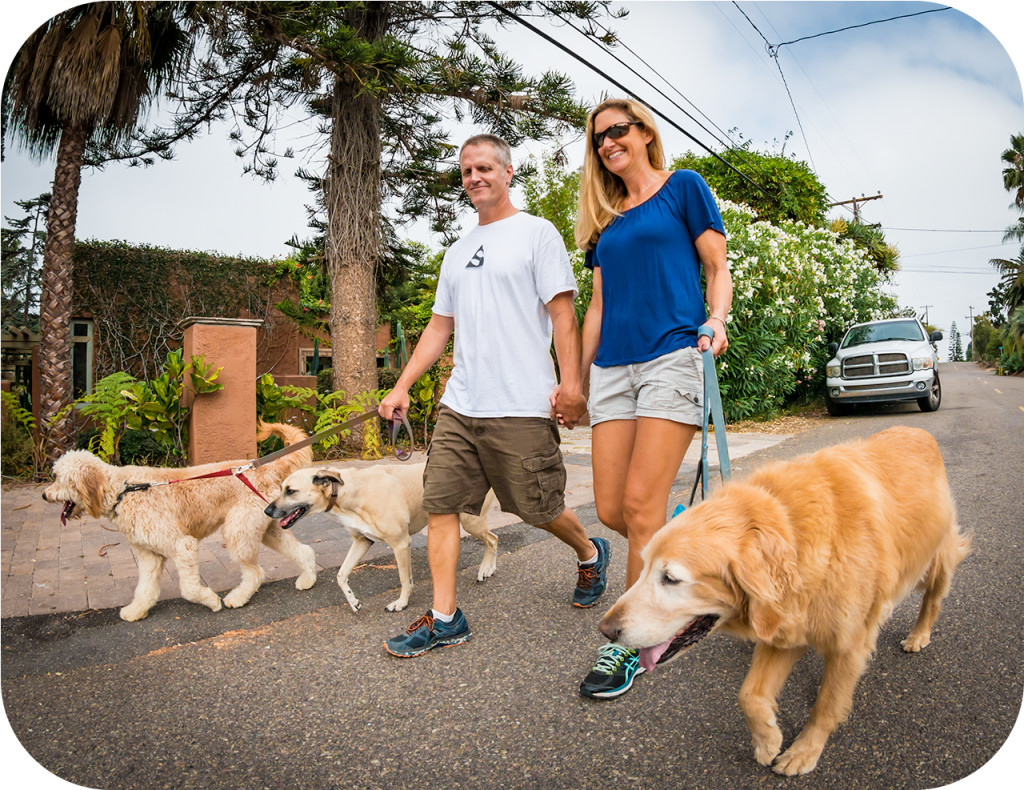 Questions about Pets & Services
c

Expand All
C

Collapse All
Our regular pet sitting visits average 30 minutes per visit depending on your pets activity level or number of pets we are caring for at one time. We also offer shorter visits for "pet checks" or extended visits for pets who need or would like longer visits. As each pets needs are different, we offer customized visit schedules. Please see our services page for more information.
Yes!  We offer boarding for dogs in a comfortable home environment.  Dogs are only crated at night by owner request.
Yes, we offer mid-day dog walking. You have the option of 1, 2, 3, 4, or 5x week dog walking to suit your dogs' needs! Mid-day dogs walks are your choice of 30, 45, or 60 minute walks around your neighborhood to allow your dogs to get some exercise and relieve him/herself.
Yes! Taking your dog on a walk is included as part of our service during our visits! Your dog must be generally controllable on a leash and must not show any signs of aggression towards people or other dogs we may encounter while on our outings. For safety reasons, and to adhere to the leash laws, your dog must be walked on a leash and will not be allowed to free-run outside of your enclosed yard.
Many of our pet sitters have a background in veterinary medicine and are comfortable and experienced with administering medications. Please make sure to leave detailed instructions on any medications and dosages to be given. Dog medications are included as part of our service. Administering medications to cats require a small additional fee. We have sitters that are capable of insulin shots and IV fluids in cats and dogs.
In order to provide pet sitting services, we require your pets to be current on their rabies vaccination. Written proof of such will be requested and must be on file prior to the first day of service. Although we recommend that your pets be current on other vaccinations for health reasons, we do not require them for pet sitting services.
Yes! Prior to the start of services, we arrange a convenient time and date for us to come by and meet you and your pets. This free initial "meet & greet" consultations allow everyone to get to know each other better, an opportunity to show your pet sitter where supplies such as food is kept, go over client forms, and acquire keys, and address any questions and concerns you may have.
Your pets will be cared for by the pet sitter whom you meet at your initial consultation. Generally, we like to keep the same pet sitter for each session, however, if a different pet sitter is available, you will have the opportunity to meet the sitter before the start of services, if desired. You will always know ahead of time who will be caring for your pets.
Due to safety reasons, we cannot provide care for aggressive pets or pets who have a history of aggression or biting. We also cannot provide services for pet snakes as we have trouble feeding one live pet to another!
We provide pet sitting for dogs, cats, birds, reptiles and small caged pets such as rabbits, guinea pigs, hamsters, rats, etc. We also provide feeding for fish tanks and koi ponds. Please inquire if your pet type is not listed.
Our pet sitting services are offered as an alternative to boarding your pets in a kennel. Because your pet sitter comes to your home, your pets remain in the comfort of their familiar surroundings, sleep in their own beds, eat their own foods, and are surrounded by the same sights & smells as is part of their every day routine. During visits, your pet sitter will spend time with your pets, feed and water them, play with them, clean your yard and/or litter boxes, and administer any medications as needed. Your pet sitter will also perform additional services such as blind/light rotation, mail & newspaper pickup, water plants, or other customized task you would like performed. We believe pets fare better emotionally when staying in the comfort of their own homes during your absence which results in a more comfortable, relaxed pet upon your return! Your sitter will NEVER show up in a marked car to make it known to neighbors that you are out of town and using a pet sitter. Please always tell your close neighbors that you have a pet sitter coming to your house to avoid suspicion while your house is in our care.
Questions about the Company
c

Expand All
C

Collapse All
Yes! We have many excellent references from happy current and past clients whom you may contact for a reference at any time! Client references are available upon request – we only wish pets could talk! Or you can read our Client Testimonials and we have a 5 star rating on Yelp.
Yes. We are licensed, bonded, and insured. Copies of our policies are available upon request.
We've been in business since 2004.
Our regular service hours for pet sitting visits are from 7:00am to 8:00pm. In the event your pets require earlier or later visits outside our regular service hours, a convenience fee may be charged. Although we try to perform visits as closely to your pets normal routine as possible, we cannot guarantee visit times. Visits performed by your pet sitter outside our regular service times due to emergency or delay and not requested specifically by you are not charged any additional fees.
We currently service the coastal area of North County San Diego – Cardiff, Carlsbad, Carmel Valley, Del Mar, Encinitas, Oceanside, Rancho Santa Fe, San Marcos, Solana Beach, and Vista. As we are continuously expanding, please feel free to contact us if your city is not listed.
We offer vacation sittings from one to three daily visits, mid-day dog walking, overnight care, pet taxi, quick stop visits and puppy checks. We also offer dog boarding in the comfort of one of our professional pet sitter's homes.
Questions about Payments and Fees
c

Expand All
C

Collapse All
Yes! We would be happy to send you an estimated quote for what the cost of service will be for any pet sitting session. Please send an email to info@coastalpetsitters.com. We will return a quote for you as soon as possible, via email. Please note that quotes are estimated and your final rate may vary slightly depending on your actual needs.
As with any service provider, gratuities for services are not expected, but if you feel you would like to include one in your payment to your sitter, we would gladly welcome it! Thank you!
Payment for services is expected on or before the first day of service. We accept cash or checks payable to your pet sitter.  You may also work out an electronic bank payment with your sitter. Established clients may leave payment inside their home to be collected by your pet sitter on the first day of service.
General Questions
c

Expand All
C

Collapse All
Getting started is easy! Please Contact Us with your requested dates. Please note: Due to our usually being out with pets during the day, a confirmation may not be given until the evening the message is received. We will contact you as soon as possible to confirm our availability and to schedule a "meet & greet", if you are a new client. After completion of our service forms, have a safe and happy trip!
Usually, we acquire house keys at your initial consultation. If this has not occurred, you have two options for key arrangements. We offer key pickup & drop off services for each session ($5 each) or we can keep your key on file for future pet sitting sessions at no charge. We can also make a copy of your key for ($5). If we keep a copy of your key, it will be kept with your pet sitter, or at your request, can be kept with Coastal Pet Sitters' trusted key holder.  Your key will never be labeled with your address on it.  You may also opt for a hiding place or provide a lock box. For safety reasons, we will not lock your key in your home on our final visit as this leaves us with no way to return to continue caring for your pets in the event you are unable to make it home as planned. We may, however, leave your key with another person or neighbor if this person is on your client forms and is prearranged.
There is no minimum number of days of service that you can book, however, we do not recommend pet sitting sessions that last longer than two weeks for dogs or three weeks for cats. This is for the well being and emotional needs of your pets.
We recommend making your reservations as far in advance as possible! Generally, two weeks is fine, however please note that we book up sometimes months in advance for holiday periods! We service pets on a first come, first served basis. For short term notice (less than 48 hours), there may be an additional fee.
To make a reservation or to check our availability, you have several options.
We will check availability, confirm your dates, and send you an invoice for services via email. We will forward your reservation request to your preferred sitter and copy them on any e-mail conversations. We follow these methods for the well being of your pet so that we can make sure no pet misses a visit!